News & Events
Tulsa World: City councilors, area leaders look at Race Riot history on tour around Greenwood
May 24th, 2016 -
By BILL SHERMAN Faith and Values Writer | Posted: Wednesday, May 11, 2016 12:00 am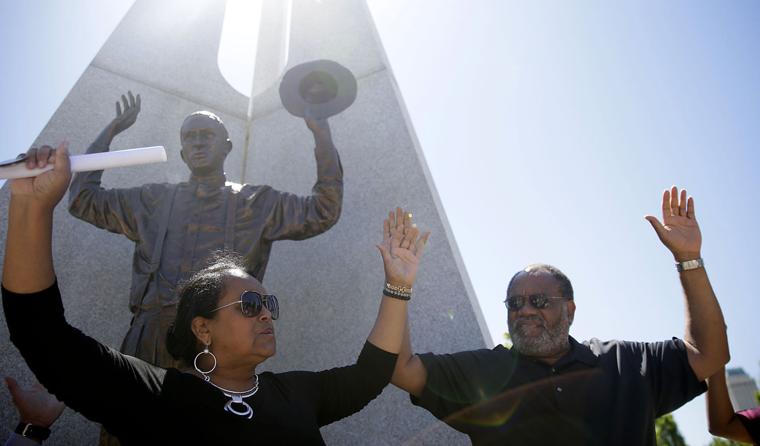 RACE RIOT
Jocelyn Payne (left) and City Councilor Jack Henderson visit the John Hope Franklin Reconciliation Park during a tour of historically significant race riot areas given by the John Hope Franklin Center for Reconciliation on Thursday. MIKE SIMONS/Tulsa World
Photo gallery: What happened in the Tulsa Race Riot
---
With the 95th anniversary of the Tulsa Race Riot less than three weeks away, city councilors, their staff and other leaders Tuesday toured the Greenwood District just north of downtown, an area that was all but destroyed in late May 1921.
The riot started with the accusation that a black man had assaulted a young white female elevator operator, and when it was over, 1,256 homes and businesses of blacks in a 30-block area were burned, and an estimated 300 people were dead, both black and white.
It has been called the single worst incident of racial violence in American history.
City Councilor Jack Henderson said the councilors decided it was time for them to take a tour of the Greenwood District to "see what used to be here, what could be here, and to reminisce about some of the things that happened."
"The Race Riot happened 95 years ago, but it still leaves a taint on this city," he said. "And it's a taint that a lot of people are afraid to talk about.
"We should never be afraid to talk about our past history because from our past we will be able to leap forward into the future," he said.
"And I think that every day, when people remember what happened here, and remember that we can change that, this whole community can become one city, one Tulsa, and make everybody proud of that.
"We can't do nothing about what happened in the past, but we can definitely make sure the past never happens again," he said.
Henderson said Greenwood has a rich history.
"It was once called Black Wall Street," he said of the area where black entrepreneurs and residents prospered.
"That's something that we can't say is happening right now," he said, a reference to the concern in north Tulsa about a dearth of businesses.
"My one dream, when I got on the council, was to re-create the Black Wall Street image, to re-create the storefronts and bring people in."
He said a lot of the recent development north of downtown, including the new ONEOK Field ballpark, is just re-creating something that was there in the past.
Jocelyn Payne, executive director of the John Hope Franklin Center for Reconciliation, served as a guide as participants viewed Race Riot exhibits at the Greenwood Cultural Center, toured the Mabel B. Little Heritage House on that property and took a bus tour of historic sites in the Greenwood District, ending at the John Hope Franklin Reconciliation Park.
She said the Mabel B. Little House preserves evidence of how black people lived in segregated north Tulsa before the Race Riot.
"I believe that many people still consider north Tulsa as like a foreign territory, without realizing that what was happening in north Tulsa, a long time ago, largely mirrored what was happening in the rest of Tulsa — people who had families, trying to do the best they could by their families … working toward dreams of a better world."
Julius Pegues, an aviation engineer and chairman of the board of the John Hope Franklin Center for Reconciliation, said that after the Race Riot, the black citizens rebuilt their community in the 1930s.
"It was a thriving area until the late '50s, when Tulsa Urban Renewal Authority started and things began to disappear."
He said the installation of the Inner Dispersal Loop in the 1960s was another blow to the community.
"The only part of Greenwood that is left is between Archer and the expressway," he said, property that is now owned by the Greenwood Chamber of Commerce.
Pegues said he thought Tulsa was doing well in race relations.
When he graduated from Booker T. Washington High School in 1953, he said, he could not attend state universities to study engineering and could not eat at certain Tulsa restaurants.
"We've still got a lot of work to do, but we're doing as well as anyone else," he said.
"We just have to keep working on it. It's not something that's going to be accomplished in a year or two.
"As people become educated on what has happened in the past, and people have conversations about it and understand one another better, then you have better relationships. It takes time. For 80 years, they didn't even talk about it," Pegues said.
Registration open for 2016 Symposium!
March 22nd, 2016 -
Don't delay. Reserve your place in the national dialogue on race and reconciliation.
BC Franklin Lecture Feb 16th
February 3rd, 2016 -
MARK YOUR CALENDAR NOW TO ATTEND
The University of Tulsa College of Law
16th Annual Buck Colbert Franklin Memorial Civil Rights Lecture
"The Force of Implicit Bias:  Science and Rhetoric"
Jerry Kang
UCLA Professor of Law, Professor of Asian American Studies
Inaugural Korea Times-Hankook Ilbo Chair in Korean American Studies and Law
Inaugural Vice Chancellor for Equity, Diversity and Inclusion
Tuesday, February 16, 2016
5:30 PM - Reception
6:00-7:00 PM, Lecture
John Rogers Hall, Price & Turpen Courtroom
3120 East 4th Street, Tulsa
Reservations Required by Feb 12
Contact Barbette Veit, 918-631-5604 or barbette-veit@utulsa.edu
KJMM Promotes Annual JHF Dinner
November 16th, 2015 -
Click to hear the radio spot!
JHF Center on Diversity Dialogue Talk Show
October 16th, 2015 -
JHF Center member Bob Webber and Executive Director Jocelyn Payne had an opportunity to talk about the Center and upcoming Dinner of Reconciliation with Rebecca Marks-Jimerson, host of the Tulsa Community College Diversity Dialogue Talk Show.  The interview was held on October 1st at the Thomas K. McKeon Center for Creativity. Click the link or watch the video below.
Noted Author Rilla Askew to Keynote Reconciliation Dinner
October 7th, 2015 -
Rilla Askew received a 2009 Arts and Letters Award from the American Academy of Arts and Letters. Her essays and short fiction have appeared in a variety of journals, and her story "The Killing Blanket" was selected for Prize Stories 1993: The O. Henry Awards. Askew's first novel, THE MERCY SEAT, was nominated for the PEN/Faulkner Award, the Dublin IMPAC Prize, was a Boston Globe Notable Book, and received the Oklahoma Book Award and the Western Heritage Award in 1998.
FIRE IN BEULAH, her novel about the Tulsa Race Riot, received the American Book Award and the Myers Book Award from the Gustavus Myers Center for the Study of Bigotry and Human Rights. She was a 2004 fellow at Civiella Ranieri in Umbertide, Italy, and in 2008 her novel HARPSONG received the Oklahoma Book Award, the Western Heritage Award, the WILLA Award from Women Writing the West, and the Violet Crown Award from the Writers League of Texas. Askew received the 2011 Arrell Gibson Lifetime Achievement Award from the Oklahoma Center for the Book. Her new novel KIND OF KIN will be published by Ecco Press in January 2013 and in the UK by Atlantic Books in August.
"Five generations of Rilla Askew's family have occupied southeastern Oklahoma. Celebrating this birthright, she has concocted of it her own Faulknerian kingdom. Askew is writing a mythic cycle, novels and stories that unsettle our view of the West's settling. In a continuous fictional mural populated with hardscrabble souls – credible, noble and flawed – Askew is completing the uncompleted crossing of the plains. Trusting prose that is disciplined, luxuriant and muscular, she is forging a chronicle as humane as it is elemental."
–Allan Gurganus, May 20, 2009, American Academy of Arts and Letters
The sixth Dinner of Reconciliation will be held Thursday, November 19, 2015, at the Greenwood Cultural Center, 322 North Greenwood Avenue, with a gathering at 6:30 p.m., followed by dinner at 7:00 p.m. The Dinner of Reconciliation provides an intimate opportunity for members of the Tulsa community to come together, break bread, enjoy each other's company, and share a vision of reconciliation in Tulsa and our nation.
 Honorary Chairs for the 2015 Dinner of Reconciliation
Tickets for the Dinner of Reconciliation cost $20 for adults and $10 for students.
Save the Date
2016 National Symposium "Justice and Reconciliation" May 27-29, 2016
2014 Dinner of Reconciliation Set for November 20
September 14th, 2014 -
Our annual Dinner of Reconciliation will take place on November 20, 2014.
For more information, please contact Jean Neal at 918-295-5009 or by email at jneal@jhfcenter.org.
Julius Pegues: The long season of reconciliation
May 5th, 2014 -
Tulsa World
By JULIUS PEGUES | Posted: Monday, May 5, 2014 
Daniel Sterling is a name most Americans could not identify a week ago.
As owner of the Los Angeles Clippers, Sterling's racist remarks about African-Americans have cost him his team and the trust of his players.
This man enjoyed years of fabulous wealth and relative fame in the world of NBA basketball. The Los Angeles chapter of the NAACP was days away from bestowing a "lifetime achievement" award to Sterling, despite him being known by many over the years as a devout racist.
For those of us who devote our time and energy to the issues of social harmony, Sterling challenges our souls and our character.
As chair of an organization —— The John Hope Center of Reconciliation —— that has the word Reconciliation in its title, I join with others to face the task of truly seeking reconciliation.
Reconciliation is hard work and it requires us to follow the path of temperance. This kind of perseverance requires all of us to lay aside our anger and acerbic rhetoric.
When people like (Nevada rancher) Cliven Bundy and Daniel Sterling spew their venom, and the national media carries it to our homes, we have an obligation —— an obligation to think about and to discuss what's happened. An obligation to promote dialogue. An obligation to seek understanding.
This is where the hard work of reconciliation begins.
Then we must, with grace and poise, discredit the comments and assure our friends and family that racist remarks have no place in our society and are not reflective of the majority of Americans. And we must, above all, educate our children on how to look at the terrible scars of racism, learn from the past, and create a better future.
Although society continues to be plagued by the evils of racism, we must hold firm in our work to overcome. Tulsa is a community that is rapidly growing in diversity. This is the world we live in and the world in which we navigate each day in a population that is changing before our eyes.
At the John Hope Franklin Center of Reconciliation, we continually work to "transform society's divisions into social harmony." Our organization does not focus on or emphasize one particular race or ethnicity, religion, or gender; we seek dialogue, education and social harmony on all fronts.
Just like an NBA team, we have a long season. Our goal is ambitious (social harmony for all) and we strive each and every day to win the hearts and souls of all citizens in our community.
In the coming days, we at the John Hope Franklin Center will be working with the Oprah Winfrey Production Company on a miniseries about the 1921 Race Riot. Our focus in that visit will be Tulsa's promise as a community once devastated by racial conflict. Our focus is the resilience of our people and our hope for achieving a future based on mutual respect.
---
Julius Pegues is John Hope Franklin Center of Reconciliation chairman.