News & Events
2017 National Symposium – Reconciliation Through The Lens of Arts & Culture
January 17th, 2017 -
Join us at the 2017 John Hope Franklin National Symposium as we discover the importance of Art & Culture and the role it plays in the reconciliation of the races in the United States and around the world.
Location:  Hyatt Regency Tulsa, 100 E. 2nd Street, Tulsa, OK  74103
Date:  May 31, 2017 – June 2, 2017
Take advantage of the Early Bird Registration and register now.  Early Bird Registration ends on March 31, 2017.
For More Information Contact:
Jean Neal
Phone:  918-295-5009
Email:  jneal@jhfcenter.org
Ready, Set, GLOW! – A Progressive Holiday Lighting Event in Downtown Tulsa
November 22nd, 2016 -
Downtown Tulsa Gets Ready for the Annual Holiday Lighting Ceremony, GLOW 2016
Ready, Set, GLOW! A Progressive Holiday Lighting Event
November 27, 2016
5:00 pm – 7:00 pm
Downtown Tulsa continues its growth as a hotspot for holiday activities. With a full schedule of events in the IDL throughout the season, downtown districts are coming together for one special night of holiday festivities.
Once again, John Hope Franklin is honored to kickoff the festivities for the evening with a Candle Lighting Ceremony.  The program begins at 5:00 pm with live music, singers, and spoken word. Our talented performers are:
Majeste Pearson
DeAnn Cooks
Ebony Easily
Anthony C. Brinkley
Phetote Mshairi
Mary Leavell
Following the entertainment there will be a special Unity Lighting as the holiday lights are turned on.  There will be a special tribute to friends and loved ones who passed in 2016.
Be sure to bring your candle apps on your smart phones or flashlights so you can participate in the Unity Lighting ceremony. The ceremony will be hosted by Naomi Keitt (Fox23) & Alicia Latimer (Tulsa City-County Library & John Hope Franklin Center for Reconciliation Board Member).
7 Days Left To Register For the 2016 Dinner of Reconciliation
November 6th, 2016 -
There are only 7 more days to register for the 2016 Dinner of Reconciliation.  Space is limited so be sure to register soon!  The price is only $25 for adults and $15 for children ages 5 – 17 years old.  Click here to register.
          Ms. Rosalind Crenshaw and Mr. Gaberino promote the 2016 Dinner of Reconciliation
Benjamin Jealous Speaks At The 2016 Democratic National Convention
October 16th, 2016 -
We are honored to have Benjamin Jealous as the Keynote Speaker at the 7th Annual John Hope Franklin Dinner of Reconciliation.  Watch as he speaks at the 2016 Democratic National Convention.
Tulsa World: After Tragedies…
October 12th, 2016 -
After tragedies, community events encourage empathy, pave way for progress, organizers say
Organizers say the events encourage empathy, pave way for progress after tragedies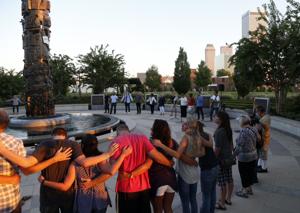 Community members gather for a prayer rally at John Hope Franklin Reconciliation Park in Tulsa on Sept. 22 after the fatal police shooting of unarmed black man, Terence Crutcher. MATT BARNARD/Tulsa World file
Posted: Wednesday, October 12, 2016 12:00 am
By Paighten Harkins Tulsa World | 

In the weeks after Terence Crutcher was fatally shot by a Tulsa police officer, rallies, forums and other events have filled local calendars as community members gather to discuss the shooting, race in Tulsa and how to bring about change.
The most effective way to do that, event organizers and speakers say, is to acknowledge the issue and talk about it — and then act.
"I firmly believe in the importance of dialogue, but only as a means to a larger end. It can't just be talking for talking's sake," said Mana Tahaie, YWCA's interim director of immigrant and refugee services.
In the days immediately following Crutcher's death, protests materialized outside the Tulsa County Courthouse, City Hall and Tulsa Jail. Hundreds gathered for events at Greenwood Cultural Center and the John Hope Franklin Reconciliation Park, among other places.
Tahaie, who has led the YWCA's racial justice initiatives since 2008, will be speaking at three separate, albeit related, events related to race in the coming week.
The first event discusses race in the workplace as part of the Return on Inclusion Summit, the second event focuses on creating public policy that helps marginalized groups, and the third is a panel discussion on crime and racial prejudice at a film screening.
Whatever the event may be, Tahaie said justthe act of setting aside a time and space to mull over the tragedy can be useful.
"People need a place to put all of their emotions, a place to process through all things they're thinking and feeling, somewhere to help make sense of things that feel senseless," she said.
Although some have said so many events in the aftermath of Crutcher's death suggested disorganization, Tulsa Talks forum coordinator DeVon Douglass said the plethora of gatherings demonstrated "unity of thought."
Douglass, who has been living in Tulsa for several years, said the events are the first step to inciting change because they give people a space to mourn, discuss different ideas and form a plan to change things.
"Because that's the whole goal is that Tulsa is a better place, that Oklahoma is a better place, that we're forming a more perfect union," Douglass said. "That's what our founding fathers called us to do."
Part of what makes these gatherings so important is that they bring together people from different communities, who have experienced issues of police brutality or systematic racism in different ways, and introduce them and their varying ideas to one another. "It's important to have those different opinions, even if we disagree with each other, because you can't have change in a stagnant place," Douglass said.
Since Crutcher's death, the Rev. Barbara Prose, from All Souls Church, said one of the questions she's received from her congregation — particularly from white members — is how they can get involved.
These questions culminated in an event last week that taught attendees how to join a movement to end racism without dominating the conversation.
"So it's not white people taking over. It's white people really listening and learning what life is like for Tulsa residents of color and learning to collaborate," Prose said.
The event included a panel of speakers including We the People leader Marq Lewis, University of Oklahoma professor Chad Johnson and leaders from other local churches.
Attendance at the community events since and before Crutcher's death have convinced Douglass that though there's still work to do in Tulsa, people care about what's going on in the city and that some residents aren't being treated equitably.
"Tulsa's not going to be able to be the best city that it can possibly be if we keep sweeping racism that exists in our city under the rug," Douglass said.
That response is indicative of a movement already underway in the city — and across the country, Douglass said.
She remembered a police shooting in 2006 that didn't garner nearly the same response as the deaths of Michael Brown or Tulsans Eric Harris and Terence Crutcher.
"It's clearly a movement, because we're not responding at all in the way that we did in 2006," she said. "It's 10 years later, and the way we respond to police-involved shootings is completely different, and that's encouraging."
Paighten Harkins
918-581-8455
paighten.harkins@tulsaworld.com
Twitter: @PaightenHarkins
Oklahoma Policy Institute's Fall Policy Boot CampWhen: Friday, Oct. 14

Where: OSU-Tulsa, North Hall in the BS Roberts Room, 700 N. Greenwood Ave.

Cost: $105, registration deadline is Oct. 12

What: An intensive policy training workshop, featuring a diversity and inclusion presentation from YWCA's Mana Tahaie.

For more information or to register, visitokpolicy.org.

"3½ Minutes, Ten Bullets" in Tulsa

When: 6 p.m. Oct. 18

Where: Circle Cinema, 10 S. Lewis Ave.

Cost: $6.50 for adults, $5 for students

What: The event will include a screening of the film "3½ Minutes, Ten Bullets" and feature a panel discussion about racial prejudice and "Stand Your Ground" laws.

For more information, visit the event's Facebook page at bit.ly/3min10bulletsTulsa.
Meet Mr. & Mrs. John Gaberino Jr. & Mr. Benjamin Jealous
August 30th, 2016 -
Plans for the The 7th Annual Dinner of Reconciliation are underway and we are excited to introduce this year's Honorary Dinner Chairs & Keynote Speaker.
This year's Honorary Dinner Chairs are Mr. and Mrs. John Gaberino Jr. – Entrepreneur, Philanthropists, and Civic Leaders.  Click here to read more about our Honorary Dinner Chairs.
The Keynote Speaker is the notable Mr. Benjamin Jealous -Venture Capitalist, Civic Leader and former President and Chief Executive Officer of the National Association for the Advancement of Colored People.
Registration For The 2016 Dinner of Reconciliation Now Open
August 30th, 2016 -

The 7th Annual Dinner of Reconciliation
This Year's Theme:
Justice and Reconciliation
"Balancing the Scales of Truth and Fairness"
Date:  Thursday, November 17, 2016
Location:  Greenwood Cultural Center, 322 N. Greenwood Ave.
Time:  Reception:  6:30 p.m.
Dinner & Program:  7:00 p.m. – 9:00 p.m.
Please R.S.V.P. by November 1, 2016
Job Announcement: JHF Center Seeks Director
July 27th, 2016 -
Available Position: Director
JOB SUMMARY
While honoring the past, the John Hope Franklin Center for Reconciliation [JHFCR] is writing a new story – a narrative of cooperation and trust. The Center's mission is to transform society's divisions into social harmony through the serious study and work of reconciliation. Through education, scholarship, and community outreach, the Center has positioned itself at the forefront of a national dialogue on reconciliation – finding new ways for Americans to live together well.
The Center is seeking a Director.  The successful candidate must possess a demonstrated commitment to diversity and inclusivity; be an exceptional communicator; serve as an effective and approachable "face" of the organization; and work tirelessly to create, sustain, and strengthen community alliances. S/he will implement the strategic planning and the Center's fundraising efforts.  The successful candidate must have a demonstrated history of effective fundraising and understand the philanthropic landscape in the Tulsa Community.  Experience managing staff (paid and volunteer) is essential as is the ability to manage conflict constructively.  The Director must have experience effectively communicating and engaging a Board of Directors.  Reports directly to the JHFCR Executive Committee.
ESSENTIAL JOB FUNCTIONS
Financial – Create and maintain an annual budget, oversee the results of operations and monitor the JHF Center's financial position.
Development — Develop and sustain a sound fund development program to ensure the availability of the necessary financial resources to sustain the JHFCR.
Leverage community partnerships for potential funding opportunities, whether corporate sponsorships, individual donors or grants.
In conjunction with the Board and Development Committee, design and execute all strategy and operations related to major campaigns, individual major gifts fund- raising and membership program activities.
To build capacity, develop infrastructure, policies and procedures, set and track goals, and report on progress toward these goals.
 Programming — Directly responsible for planning, implementing and evaluating the Center's programs.
Work with volunteer committees to achieve targeted results and gather metrics that demonstrate success.
Public Awareness  — Identify, cultivate and develop strong corporate and nonprofit alliances throughout the community, state and nation to increase the level of awareness regarding JHFCR's identity and mission.
Coordinate alliances between internal JHFCR functions and community efforts to increase our visibility and brand awareness.
Become involved in and represent JHFCR at community events involving community partnerships.
Communication — Lead the Center's communication efforts to build brand awareness.
Coordinate volunteers and contract personnel to develop a strategic communication effort in multiple channels, with specific attention to the Web site, social media, print and electronic visibility.
Perform other duties as assigned or requested.
KNOWLEDGE AND SKILLS
Must have proven, successful interpersonal relationship skills to maintain effective and satisfactory working relationships with staff, vendors, volunteers, visitors, and contractors.  Must have organizational agility and the ability to influence within the Center and with other community groups.  Must be able to communicate successfully at every level and have strong business acumen specific to our non-profit status and mission.  Must have excellent team-building skills.  Must have the ability to manage several projects simultaneously.
POSITION REQUIREMENTS
Bachelor's degree from an accredited college/university with 5+ years of nonprofit management/community affairs/fund raising experience. Advanced MS Office skills, advanced database software skills, advanced experience with accounting and budgeting practices. Advanced organizational skills, efficiency skills and excellent attention to detail with a demonstrated commitment to completing assignments on a timely basis.
TO APPLY, SUBMIT COVER LETTER AND RESUME TO:
John Hope Franklin Center for Reconciliation, Inc.
Attention: Human Resources Department
322 North Greenwood Avenue
Tulsa, OK  74120
Or submit a cover letter and resume on the John Hope Franklin Center's website,
NOTE:  Applications must be received no later than midnight September 7, 2016.
Tulsa World: City councilors, area leaders look at Race Riot history on tour around Greenwood
May 24th, 2016 -
By BILL SHERMAN Faith and Values Writer | Posted: Wednesday, May 11, 2016 12:00 am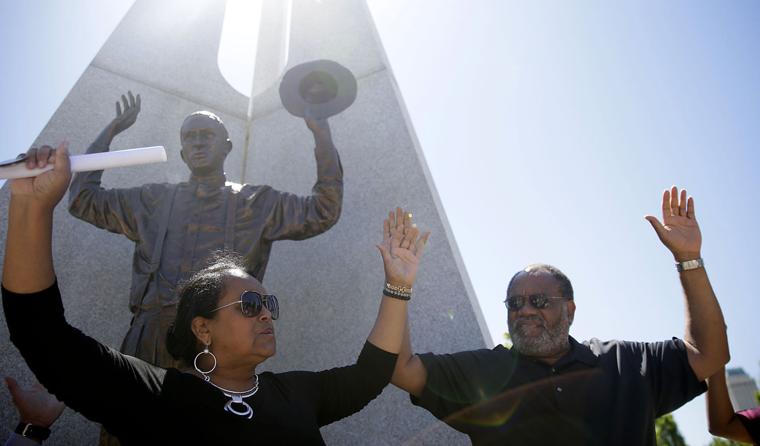 RACE RIOT
Jocelyn Payne (left) and City Councilor Jack Henderson visit the John Hope Franklin Reconciliation Park during a tour of historically significant race riot areas given by the John Hope Franklin Center for Reconciliation on Thursday. MIKE SIMONS/Tulsa World
Photo gallery: What happened in the Tulsa Race Riot
---
With the 95th anniversary of the Tulsa Race Riot less than three weeks away, city councilors, their staff and other leaders Tuesday toured the Greenwood District just north of downtown, an area that was all but destroyed in late May 1921.
The riot started with the accusation that a black man had assaulted a young white female elevator operator, and when it was over, 1,256 homes and businesses of blacks in a 30-block area were burned, and an estimated 300 people were dead, both black and white.
It has been called the single worst incident of racial violence in American history.
City Councilor Jack Henderson said the councilors decided it was time for them to take a tour of the Greenwood District to "see what used to be here, what could be here, and to reminisce about some of the things that happened."
"The Race Riot happened 95 years ago, but it still leaves a taint on this city," he said. "And it's a taint that a lot of people are afraid to talk about.
"We should never be afraid to talk about our past history because from our past we will be able to leap forward into the future," he said.
"And I think that every day, when people remember what happened here, and remember that we can change that, this whole community can become one city, one Tulsa, and make everybody proud of that.
"We can't do nothing about what happened in the past, but we can definitely make sure the past never happens again," he said.
Henderson said Greenwood has a rich history.
"It was once called Black Wall Street," he said of the area where black entrepreneurs and residents prospered.
"That's something that we can't say is happening right now," he said, a reference to the concern in north Tulsa about a dearth of businesses.
"My one dream, when I got on the council, was to re-create the Black Wall Street image, to re-create the storefronts and bring people in."
He said a lot of the recent development north of downtown, including the new ONEOK Field ballpark, is just re-creating something that was there in the past.
Jocelyn Payne, executive director of the John Hope Franklin Center for Reconciliation, served as a guide as participants viewed Race Riot exhibits at the Greenwood Cultural Center, toured the Mabel B. Little Heritage House on that property and took a bus tour of historic sites in the Greenwood District, ending at the John Hope Franklin Reconciliation Park.
She said the Mabel B. Little House preserves evidence of how black people lived in segregated north Tulsa before the Race Riot.
"I believe that many people still consider north Tulsa as like a foreign territory, without realizing that what was happening in north Tulsa, a long time ago, largely mirrored what was happening in the rest of Tulsa — people who had families, trying to do the best they could by their families … working toward dreams of a better world."
Julius Pegues, an aviation engineer and chairman of the board of the John Hope Franklin Center for Reconciliation, said that after the Race Riot, the black citizens rebuilt their community in the 1930s.
"It was a thriving area until the late '50s, when Tulsa Urban Renewal Authority started and things began to disappear."
He said the installation of the Inner Dispersal Loop in the 1960s was another blow to the community.
"The only part of Greenwood that is left is between Archer and the expressway," he said, property that is now owned by the Greenwood Chamber of Commerce.
Pegues said he thought Tulsa was doing well in race relations.
When he graduated from Booker T. Washington High School in 1953, he said, he could not attend state universities to study engineering and could not eat at certain Tulsa restaurants.
"We've still got a lot of work to do, but we're doing as well as anyone else," he said.
"We just have to keep working on it. It's not something that's going to be accomplished in a year or two.
"As people become educated on what has happened in the past, and people have conversations about it and understand one another better, then you have better relationships. It takes time. For 80 years, they didn't even talk about it," Pegues said.
Registration open for 2016 Symposium!
March 22nd, 2016 -
Don't delay. Reserve your place in the national dialogue on race and reconciliation.