News & Events
Job Opening: Admin Asst
February 28th, 2017 -
JOHN HOPE FRANKLIN CENTER FOR RECONCILIATION, INC
JOB DESCRIPTION
RECEPTIONIST/ADMINISTRATIVE ASSISTANT
Under the general supervision of the Executive Director, this position will provide a variety of support services, ensure the efficient day-to-day operations of the office, and support the work of management and other staff.  The receptionist/administrative assistant is the backbone of the organization and will familiarize her/himself with all aspects of the organization, and will operate as the gatekeeper and first point of contact for JHFCR.
PRIMARY DUTIES AND RESPONSIBILITIES
Perform a wide range of duties including all of the following:
Reception:
Answer general phone inquiries in a professional and courteous manner
Direct phone inquiries to the appropriate staff members
Reply to general information requests with accurate information
Greet clients/suppliers/visitors to the organization in a professional and friendly manner
Office administration
Use computer word processing, spreadsheet, and database software to prepare reports, memos, and documents
Sort incoming mail, faxes, and courier deliveries for distribution
Prepare outgoing faxes, mail, and courier parcels
Forward incoming general e-mails to the appropriate staff member
Forward voice mail from the general mailbox to the appropriate staff member
Receive and store the office supplies ensuring that basic supplies are always available
Code and file material according to established procedures
Update and ensure the accuracy of the organization's databases
Backup electronic files using proper procedures
Provide secretarial and administrative support to management and other staff
Make meeting and other arrangements for staff, as requested
Coordinate the maintenance of office equipment
Keep the office organized and running efficiently
Assist with financial management
Use computer software to prepare invoices and financial statements
Code and file financial material according to established records management procedures
Process accounts payable ensuring timeliness and accuracy of codes and appropriate backup
Assist with the preparation of accurate bank reconciliations and deposits
Assist with financial reports as required
Perform month end duties as required
Provide Board support
With the Executive Director, prepare meeting agendas and supporting material for distribution
Ensure the timely distribution of material to the Board
Support the Board with meeting, travel and other arrangements
Draft minutes of Board meetings for review by the Executive Director
Create action lists for management and staff from board meetings
QUALIFICATIONS
Education
High school diploma
Post-secondary education in business, computers, or office management is a preferred asset.
Knowledge, skills and abilities
Proficiency in the use of computer programs for:
Word processing
Databases
Spreadsheets
Bookkeeping
E-mail
Internet
Proficiency in the use of office equipment:
Computer
Voice messaging systems
Fax
Photo copier
Personal characteristics
The administrative assistant will demonstrate competence in all of the following:
Behave Ethically:  Understand ethical behavior and business practices and ensure own behavior and the behavior of others are consistent with these standards and align with the values of the organization.
Build Relationships:   Establish and maintain positive working relationships with others both internally and externally to achieve the goals of the organization.
Communicate Effectively:  Speak, listen and write in a clear, thorough and timely manner using appropriate and effective communication tools and techniques.
Foster Teamwork:  Work cooperatively and effectively with others to set goals, resolve problems, and make decisions that enhance organizational effectiveness.
EXPERIENCE
1 – 3 years in an office setting
WORKING CONDITIONS
Work in an office environment
Work a standard work week
May be required to work some overtime hours
Perform other duties as assigned
PHYSICAL DEMANDS
While performing the duties of this job, the employee is regularly required to sit and use hands to finger, handle, or feel objects, tools, or controls.  The employee frequently is required to talk or hear.  The employee is occasionally required to stoop, kneel, crouch, or crawl.  The employee must occasionally lift and/or move up to 10 pounds.  Specific vision abilities required by this job include close vision and the ability to adjust focus.
Deadline to apply: March 21st
Contact and submit resumes to:
Jean Neal 
jneal@jhfcenter.org
918-295-5009
Civil rights fighter, Tulsa Race Riot survivor turns 102
February 15th, 2017 -
By Karen Roberts The Journal News (Westchester County, N.Y.) | Posted: Wednesday, February 15, 2017 12:00 am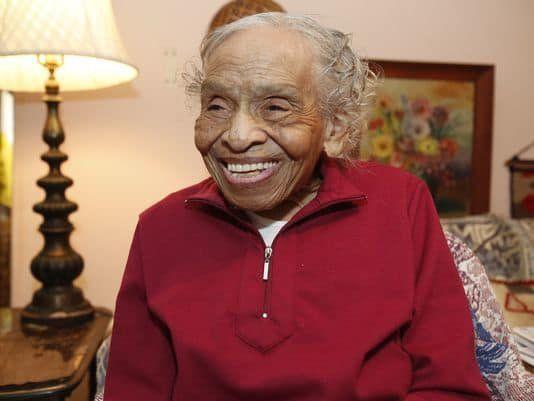 OliviaHooker
Olivia Hooker, a Tulsa Race Riot survivor who turned 102 years old on Sunday, is pictured at her home in Greenburgh, New York, on Feb. 6. RICKY FLORES/The Journal News (Westchester County, N.Y.)
GREENBURGH, N.Y. — When you're Olivia Hooker, it's OK to talk about age, especially as she's achieved so much and still has an engaging smile and strong mind.
Hooker turned 102 years old on Sunday — sharing a birthday with President Abraham Lincoln and an incredible history of being a great American patriot.
Hooker was born in 1915 in Muskogee, Oklahoma.
Today, she talks about not having the hand strength she used to for playing piano concertos and no longer being able to live independently. Yet this centenarian has had a front seat to some of America's most challenging moments, fighting racial injustice and becoming a female trailblazer.
"It's astonishing because you meet challenges that you never expected," Hooker said.
Among her many honors, the longtime Greenburgh resident is featured in a new book "Aging Gracefully" by Karsten Thormaehlen.
It profiles 52 people all over the world who are 100 years old and older.
"I remember that I had the best time talking to her and photographing her," says Thormaehlen. "You can tell from her smile. I was quite nervous meeting Olivia, who's a national hero and a living American legend."
At just 6 years old, Hooker lived through the 1921 Tulsa Race Riot — which she calls a massacre. White rioters destroyed 35 city blocks of the prosperous Greenwood district, known as Tulsa's Black Wall Street, over a 24-hour period.
The seminal race riot resulted in an estimated 300 deaths, injuries of more than 800 people and displaced over 10,000 black people from their homes.
Ku Klux Klan members destroyed Hooker's family home.
"They were furious when they came in our home and my mother was cooking and not running away," she says. "They took the food and dumped it in the mud and then they came back and took her nice flaky biscuits out of the oven and dumped them out on the dirt.
"We were hiding under the table where she put us, and we could see all this; well, it didn't astonish my older sister and brother because they knew about things."
She remembers the sky bright with hailing bullets.
"They deputized the marauders — they were terrible people — so they could do anything they wanted to do," Hooker said. "They took all the men that would have protected us and put them in an internment camp. So there was only women and children, and they (the rioters) became even more vicious then."
She was one of the survivors who filed an unsuccessful federal lawsuit in 2003 seeking reparations for one of the most horrific riots in U.S. history.
"It was 80 years before they finally came out with a report from the Assembly of Oklahoma that showed we were the victims and not the perpetrators," Hooker says. "For years they had even denied they used airplanes, but all of us experienced it and saw the airplanes." The rioters borrowed planes used for dust-cropping to shoot at the residents from above.
Hooker says she was affected the hardest by racism because she was a patriotic American and her family didn't teach her about prejudice.
"I was one of those starry-eyed children who went to a school that impressed us with life, liberty and the pursuit of happiness — and I believed all this; I didn't know it didn't pertain to me. I was absolutely astonished."
The family moved to Topeka, Kansas, after the riots.
She credits her parents for instilling in the family of five children the importance of looking forward, staying positive and service.
"My mother would never join anything for social reasons. You have to have an aim to do something for somebody if you want me to become a member and pay dues," she says. "It was a good example for us; it kept us oriented toward trying to help other human beings."
In 1945, she became the first African-American woman to join the U.S. Coast Guard women's reserve called SPAR.
"It was a fascinating experience for me because I had not known people from different ethnic backgrounds, so I learned a lot about people from other cultures," she says.
Hooker earned a master's degree in psychological services in 1947 from Columbia University, where she was one of just two black female students. In 1961, she earned her Ph.D. in psychology from the University of Rochester and worked with women with disabilities.
She's been celebrated by presidents including Barack Obama, George W. Bush and Bill Clinton. And there's a book, "Tulsa Girl" by Shameen Anthanio-Williams, about Hooker's Oklahoma experience.
She's direct about history and the advice she'd give young people.
"I think they need to know you have to watch your back — and as they say, trust few. And always check the veracity of what people tell you because there are people who will not tell you the straight truth."
Birthday plans will be mellow this year after a big celebration in 2016, partly because she doesn't want loved ones to go through too much trouble, and also because she is concerned by recent politics and the direction of the nation.
"I thought it was good for the women to have a march and keep on marching," she said, "and if I could I would join them and let them know we don't have to accept this with pleasure and we have to keep our country strong."
"I think I've been lucky and blessed. I didn't drink and I didn't smoke, and I think they are good things to avoid. And I tried to get the right amount of sleep to keep your mind positive," says Hooker.
"You get strength from within from believing you can do something, and sometimes you get a real surprise."
2017 National Symposium
January 22nd, 2017 -
Reconciliation Through the Lens of Art & Culture
Join us at the 2017 John Hope Franklin National Symposium as we discover the importance of Art & Culture and the role it plays in the reconciliation efforts in the United States and around the world.
May 31, 2017 – June 2, 2017
Hyatt Regency Tulsa, 100 E. 2nd Street, Tulsa, OK  74103
Take advantage of the Early Bird Registration and register now.
Hotel discount passkey is: https://aws.passkey.com/go/jhf
Early Bird Registration ends on April 19, 2017.
2017 National Symposium Call for Papers
January 19th, 2017 -
The Call for Papers is officially open.
2017 National Symposium – Reconciliation Through The Lens of Arts & Culture
January 17th, 2017 -
Join us at the 2017 John Hope Franklin National Symposium as we discover the importance of Art & Culture and the role it plays in the reconciliation of the races in the United States and around the world.
Location:  Hyatt Regency Tulsa, 100 E. 2nd Street, Tulsa, OK  74103
Date:  May 31, 2017 – June 2, 2017
Take advantage of the Early Bird Registration and register now.  Early Bird Registration ends on March 31, 2017.
For More Information Contact:
Jean Neal
Phone:  918-295-5009
Email:  jneal@jhfcenter.org
Ready, Set, GLOW! – A Progressive Holiday Lighting Event in Downtown Tulsa
November 22nd, 2016 -
Downtown Tulsa Gets Ready for the Annual Holiday Lighting Ceremony, GLOW 2016
Ready, Set, GLOW! A Progressive Holiday Lighting Event
November 27, 2016
5:00 pm – 7:00 pm
Downtown Tulsa continues its growth as a hotspot for holiday activities. With a full schedule of events in the IDL throughout the season, downtown districts are coming together for one special night of holiday festivities.
Once again, John Hope Franklin is honored to kickoff the festivities for the evening with a Candle Lighting Ceremony.  The program begins at 5:00 pm with live music, singers, and spoken word. Our talented performers are:
Majeste Pearson
DeAnn Cooks
Ebony Easily
Anthony C. Brinkley
Phetote Mshairi
Mary Leavell
Following the entertainment there will be a special Unity Lighting as the holiday lights are turned on.  There will be a special tribute to friends and loved ones who passed in 2016.
Be sure to bring your candle apps on your smart phones or flashlights so you can participate in the Unity Lighting ceremony. The ceremony will be hosted by Naomi Keitt (Fox23) & Alicia Latimer (Tulsa City-County Library & John Hope Franklin Center for Reconciliation Board Member).
7 Days Left To Register For the 2016 Dinner of Reconciliation
November 6th, 2016 -
There are only 7 more days to register for the 2016 Dinner of Reconciliation.  Space is limited so be sure to register soon!  The price is only $25 for adults and $15 for children ages 5 – 17 years old.  Click here to register.
          Ms. Rosalind Crenshaw and Mr. Gaberino promote the 2016 Dinner of Reconciliation
Benjamin Jealous Speaks At The 2016 Democratic National Convention
October 16th, 2016 -
We are honored to have Benjamin Jealous as the Keynote Speaker at the 7th Annual John Hope Franklin Dinner of Reconciliation.  Watch as he speaks at the 2016 Democratic National Convention.
Tulsa World: After Tragedies…
October 12th, 2016 -
After tragedies, community events encourage empathy, pave way for progress, organizers say
Organizers say the events encourage empathy, pave way for progress after tragedies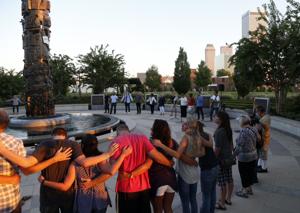 Community members gather for a prayer rally at John Hope Franklin Reconciliation Park in Tulsa on Sept. 22 after the fatal police shooting of unarmed black man, Terence Crutcher. MATT BARNARD/Tulsa World file
Posted: Wednesday, October 12, 2016 12:00 am
By Paighten Harkins Tulsa World | 

In the weeks after Terence Crutcher was fatally shot by a Tulsa police officer, rallies, forums and other events have filled local calendars as community members gather to discuss the shooting, race in Tulsa and how to bring about change.
The most effective way to do that, event organizers and speakers say, is to acknowledge the issue and talk about it — and then act.
"I firmly believe in the importance of dialogue, but only as a means to a larger end. It can't just be talking for talking's sake," said Mana Tahaie, YWCA's interim director of immigrant and refugee services.
In the days immediately following Crutcher's death, protests materialized outside the Tulsa County Courthouse, City Hall and Tulsa Jail. Hundreds gathered for events at Greenwood Cultural Center and the John Hope Franklin Reconciliation Park, among other places.
Tahaie, who has led the YWCA's racial justice initiatives since 2008, will be speaking at three separate, albeit related, events related to race in the coming week.
The first event discusses race in the workplace as part of the Return on Inclusion Summit, the second event focuses on creating public policy that helps marginalized groups, and the third is a panel discussion on crime and racial prejudice at a film screening.
Whatever the event may be, Tahaie said justthe act of setting aside a time and space to mull over the tragedy can be useful.
"People need a place to put all of their emotions, a place to process through all things they're thinking and feeling, somewhere to help make sense of things that feel senseless," she said.
Although some have said so many events in the aftermath of Crutcher's death suggested disorganization, Tulsa Talks forum coordinator DeVon Douglass said the plethora of gatherings demonstrated "unity of thought."
Douglass, who has been living in Tulsa for several years, said the events are the first step to inciting change because they give people a space to mourn, discuss different ideas and form a plan to change things.
"Because that's the whole goal is that Tulsa is a better place, that Oklahoma is a better place, that we're forming a more perfect union," Douglass said. "That's what our founding fathers called us to do."
Part of what makes these gatherings so important is that they bring together people from different communities, who have experienced issues of police brutality or systematic racism in different ways, and introduce them and their varying ideas to one another. "It's important to have those different opinions, even if we disagree with each other, because you can't have change in a stagnant place," Douglass said.
Since Crutcher's death, the Rev. Barbara Prose, from All Souls Church, said one of the questions she's received from her congregation — particularly from white members — is how they can get involved.
These questions culminated in an event last week that taught attendees how to join a movement to end racism without dominating the conversation.
"So it's not white people taking over. It's white people really listening and learning what life is like for Tulsa residents of color and learning to collaborate," Prose said.
The event included a panel of speakers including We the People leader Marq Lewis, University of Oklahoma professor Chad Johnson and leaders from other local churches.
Attendance at the community events since and before Crutcher's death have convinced Douglass that though there's still work to do in Tulsa, people care about what's going on in the city and that some residents aren't being treated equitably.
"Tulsa's not going to be able to be the best city that it can possibly be if we keep sweeping racism that exists in our city under the rug," Douglass said.
That response is indicative of a movement already underway in the city — and across the country, Douglass said.
She remembered a police shooting in 2006 that didn't garner nearly the same response as the deaths of Michael Brown or Tulsans Eric Harris and Terence Crutcher.
"It's clearly a movement, because we're not responding at all in the way that we did in 2006," she said. "It's 10 years later, and the way we respond to police-involved shootings is completely different, and that's encouraging."
Paighten Harkins
918-581-8455
paighten.harkins@tulsaworld.com
Twitter: @PaightenHarkins
Oklahoma Policy Institute's Fall Policy Boot CampWhen: Friday, Oct. 14

Where: OSU-Tulsa, North Hall in the BS Roberts Room, 700 N. Greenwood Ave.

Cost: $105, registration deadline is Oct. 12

What: An intensive policy training workshop, featuring a diversity and inclusion presentation from YWCA's Mana Tahaie.

For more information or to register, visitokpolicy.org.

"3½ Minutes, Ten Bullets" in Tulsa

When: 6 p.m. Oct. 18

Where: Circle Cinema, 10 S. Lewis Ave.

Cost: $6.50 for adults, $5 for students

What: The event will include a screening of the film "3½ Minutes, Ten Bullets" and feature a panel discussion about racial prejudice and "Stand Your Ground" laws.

For more information, visit the event's Facebook page at bit.ly/3min10bulletsTulsa.
Meet Mr. & Mrs. John Gaberino Jr. & Mr. Benjamin Jealous
August 30th, 2016 -
Plans for the The 7th Annual Dinner of Reconciliation are underway and we are excited to introduce this year's Honorary Dinner Chairs & Keynote Speaker.
This year's Honorary Dinner Chairs are Mr. and Mrs. John Gaberino Jr. – Entrepreneur, Philanthropists, and Civic Leaders.  Click here to read more about our Honorary Dinner Chairs.
The Keynote Speaker is the notable Mr. Benjamin Jealous -Venture Capitalist, Civic Leader and former President and Chief Executive Officer of the National Association for the Advancement of Colored People.